Thanks for attending my recent presentation, and more importantly thank you for your continued interest in the "This Moment Matters" message — and really, the "TMM" way of life.
To help you continue on the journey, here are some resources that may help you:
Watch the Original "This Moment Matters" Video
Download the "This Moment Matters" Manifesto
Merriam-Webster defines manifesto as "a written statement declaring publicly the intentions, motives, or views of its issuer." Download my manifesto (in progress) for living as if This Moment Matters.
Remember Essential Lessons for Living as if This Moment Matters
Recognize that life happens here and choose to "be here now and be somewhere else later."
Learn to find the music in the mundane.
Put out the welcome mat to whatever this moment brings and take "response-ability" (i.e. engage proactively).
Realize that a better future can only be created in this moment.
Ask: What would my best self do right now? (And then whenever possible, do it!)
Heed the call for renewal — take advantage of life's built-in pauses and breeeeathe….
Whatever happened in the last moment, this moment presents a new opportunity… What will you do with it?!
Bring "This Moment Matters" home with you – buy the CD!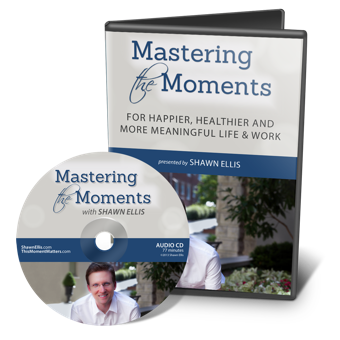 Retail: $29.95 plus shipping/handling
Live Event Special: $20 including shipping!
On this audio CD, based on the "This Moment Matters" presentation, Shawn shares keys to happier, healthier and more meaningful life and work. Discover WHY this moment matters and how to LIVE and WORK as if this moment matters. Tracks include:
* Finding the Beauty in the "Busy-ness"
* Be Here Now… Be Somewhere Else Later
* Create a Better Future… Right Now!
* Living with the Certainty of Uncertainty
* And more!
The program is approximately 77 minutes long.
Click here to purchase.
Enter your email to be notified of future videos, resources, articles, etc.