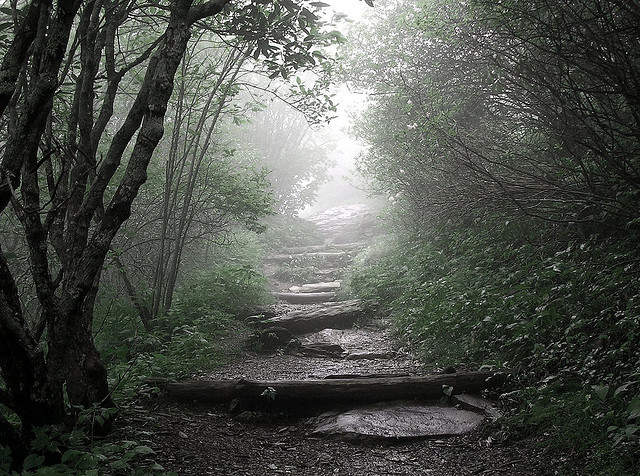 "I believe the choice to be excellent begins with aligning your thoughts and words with the intention to require more from yourself." — Oprah Winfrey
It's that time of year again. The calendar is about to turn, and we're all thinking about how we want to make next year better than this year — as we should be.
I'm reminded of a quote that I've heard several times from my friend, Byrd Baggett:
"You're either green and growing or ripe and rotting."
What typically coincides with our pursuit of making things "better" at this time of year is setting New Year's resolutions. Do you have any?
The idea behind setting resolutions is a good one, but unfortunately, study after study shows that most of them fail (78% according to one survey).
In this post, I'd like to share a few tips that I've found to be very helpful — with the hope that it might help you make 2013 the year you want it to be!
Here we go…
Most New Year's resolutions look something like this:
"I'm going to lose 20 pounds this year."
"I'm going to quit smoking."
"I'm going to save more money."
Sound familiar?
They're short, simple statements that indicate a certain outcome or result.
The problem is, we can't achieve an outcome without first following a process.
It's not as if you can just snap your fingers and immediately lose 20 pounds. You'll lose them — and keep them off — by making the right choices in an ongoing series of critical moments.
You don't just quit smoking. (I mean, yes, you can quit cold turkey, but you will likely have to overcome the temptation to light up on several occasions.)
You don't just say "I'm going to save more money" and then wind up with more money in your pocket — you'll have to choose saving over spending time and time again.
You get the idea, and overlooking "the process" is just one of a variety of reasons that most resolutions fail… quickly!
If you're going to set out to change a behavior or condition that has been around for a while, you'll need more than a rather empty statement such as "I'm going to lose 20 pounds"  to cross the finish line.
NEW YEAR'S RESOLUTION TIP #1: Add some meaning to your resolutions
To add some meaning to your resolutions, it's very important to answer this question: WHY?
Why do you want to lose 20 pounds?
Oh, it's because you want to get fit to run a 5k.
Why do you want to run a 5k?
Oh, you want to get healthier so you can live longer.
Why do you want to live longer?
Oh, you want to be able to play with your grandkids.
Now we're getting somewhere… and now you've got something to think about in those critical moments when you have to choose between a cupcake and a carrot.
Until you know the "why" behind your resolution, you've got little more than a task you should do… and a should doesn't stand a chance against all the musts we face every day.
Let's take this even deeper, though.
NEW YEAR'S RESOLUTION TIP #2: Connect your resolution with your "ideal self"
I think every resolution — whether it's for New Year's or not — is really about an inner call to live as our ideal self.
You know, that feeling that "I'm better than this"?
I believe that if you have a desire to lose weight, to become more patient, to watch less TV…
Whatever it is that you want to change — if you know it is really, truly important to you — then it's because you know you're not living as your ideal self right now, or put another way, you're not bringing the best of who you are into the world.
So instead of trying to change with New Year's resolutions, how about taking the time to picture your ideal self and then aim to live as your ideal self as much as possible in 2013?
Here's a little exercise to help with that:
1. Look at the "spokes of life" below and picture your ideal self — or your ideal life — in these different categories: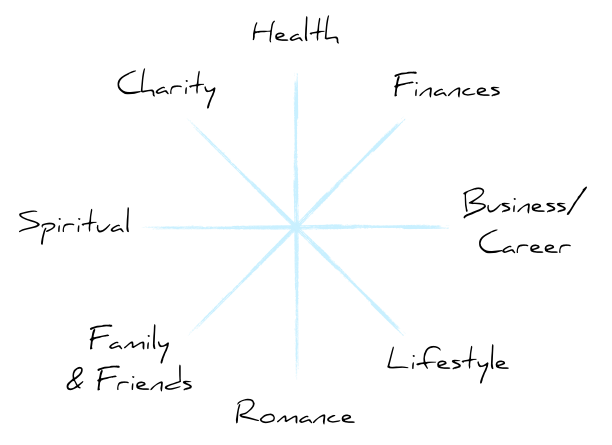 For example, when you look at the "Health" category, ask yourself, "What is my ideal?" in that category.
Now state that as if you're living it right now — we often refer to this as setting your intention.
Maybe you would say, "I am at my ideal weight of 175 pounds."
When you picture your ideal in the "Romance" category, maybe you would say, "I am in a loving, fulfilling relationship."
You can go around the entire wheel and do this — and you can certainly feel free to add and remove "spokes" based on what's important to you.
(Ultimately, you want to set your intention in all the areas of your life — and perhaps even capture them in a manifesto — but that can be an overwhelming project to tackle at one time. Since we're talking about New Year's Resolutions here, maybe you just want to pick the one, two or three areas that relate to the resolutions you have in mind.)
2. Now that you have your intention(s) in mind, you can ask yourself in the critical moments related to that intention: "What would my ideal self do right now?"
Let's just take the ideal weight example. In critical moments — like standing in front of the refrigerator when looking for a snack, ordering lunch while out with co-workers, when the alarm goes off for your morning workout, and so on — your ideal self would most likely make different decisions than the ones we often "default" to — unless you're already living your ideal life!
You might actually imagine that your ideal self has already been in this very moment and made the right decision. What did he (or she) do?
If you want better health, better relationships, better finances, a better career — it all comes down to making better choices in critical moments. (One reason I chose to depict those different categories of life as spokes is because they all meet in the center — in this moment.)
The more moments you can ask, "What would my ideal self do?" the more often you will live in ALIGNMENT with your ideal self which brings more happiness and more fulfillment in your life — independent of you achieving your desired outcome! That's right, you'll feel better just knowing that you're on the right path.
And as it turns out, you're much more likely to achieve your desired outcome by calling yourself up to a higher level — to living as your ideal self — than you are by trying to avoid something negative. (Example: "My ideal self would eat a carrot" rather than "I shouldn't eat that cupcake.")
Make sense?
Let me point out — again and always — that living as if This Moment Matters is about progress, not perfection.
You'll certainly have plenty of moments where you're not living as your ideal self — just as I do, and we all do. We're not robots, so don't kick yourself for falling short. That's the time to remind yourself that that moment is gone and a new moment is here… and this moment always offers another chance to turn it all around!
Here's to a great 2013!